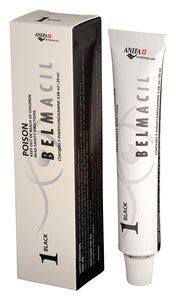 Belmacil Tint - Black
Belmacil Oxydant is required and sold separately. 
Belmacil's powerful Swiss formula stands out above the rest with the longest lasting and most gentle eyelash tint colors on the planet! Definition that reigns supreme and is a deep raven black! Belmacil Black is the darkest colour in the Belmacil range, a very popular colour and perfect for clients with black to dark brown hair.
Black will add solid definition and volume to the eyelashes without having to use mascara! A Semi-permanent colour that lasts on lashes from 6 - 8 weeks and is perfect for mixing with other colors in the Belmacil range.
Content:- 20ml and over 100 applications per tube! 
Ingredients: Aqua (Water), Cetearyl Alcohol, Paraffinum liquidum (Mineral Oil), p-Phenylenediamine, Lanolin, PEG-40 Castor Oil, Sodium Cetearyl Sulfate, Sodium Lauryl Sulfate, 2,6-Diaminopyridine, Tromethamine, p-Aminophenol, Tetrasodium EDTA, Sodium Sulfite, CI77499, CI77007