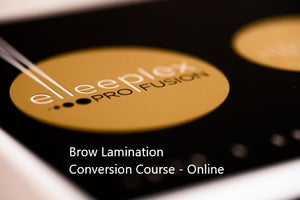 Elleeplex Profusion Brow Lamination Conversion Course - Online
Please email a copy of your license and certificate from another brand or school to hello@elleebanastoreusa.com prior to purchasing this course. 
***AFTERPAY***
 

not applicable for this product

 ****This course is for US residents only****

Must hold a professional license to take this course.

Brow Lamination is fast becoming one of the hottest trends in the beauty industry and Elleeplex Profusion is a highly sort after product line due to the quality and benefits of the product. The brow lamination service gives the appearance of fuller eyebrows that are more easily shaped or corrected into brows that clients LOVE. This course arms you with the detailed concept of brow lamination as well as the hidden tips to mastering your technique to achieve perfect results each and every time.

 The detailed explanation of the science of brow lamination is a key component to understanding the treatment and how to achieve optimal results. You are guided through the cost and income potential of brow lamination to build your marketability. Our conversion course is suitable for brow artists who are already well versed in brow lamination and want to make the transition from another brand to Elleeplex Profusion. Within in this course you will learn the Elleeplex Profusion application technique and about the Elleeplex Profusion Brow Lamination products. A case study component is required to receive your official Elleeplex Profusion Brow Lamination Certificate. You are required to submit your previous certification in brow lamination that you obtained with another brand or training facility. This is subject to review of Elleebana HQ and if the certificate is rejected you will be offered a full refund.